It's officially summer and the party invitations are rolling in each week.
For the little girls, a Princess themed party seems to be the most popular.
But how do you make yours stand out from the rest?

Now you can have your little princess have the best
Princess Birthday Party ever with a few tips and suggestions...

There's tons of Princess Themed products out there
to make your party a success, but if you're in the mood,
I will also show you how you can make a lot of things yourself.

Stay connected as I will continue to add to this post...

First Thing on The List...
You Need Princess Party Invitation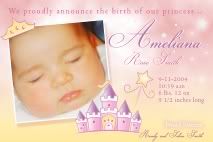 I've made numerous Princess Themed Invitations for my family and friends. It's a great way to showcase more than just one photo of your little Princess. Check out
MissPicturePerfect.com
You can also buy a variety of non photo card Princess Party Invitations...
These are just a few of my favorites...

Party Favors are next on the list...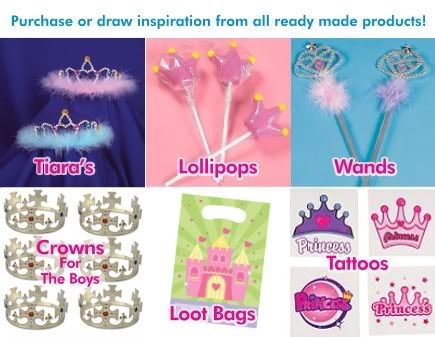 Fill Cute
Princess Loot Bags
with jewel lollipop rings, candy necklaces,
and tiara shaped lollipops!

Craft Ideas...
You can have all the guests make tiaras or wands
as an additional party favor for the party.
Complete the look and teach them how to make a simple Non Sew Tutu!
Learn how with my
free tutorial.
Presew the elastic or buy elastic headbands. Cut the tulle strips ahead of time.
All they have to do is tie them on. Not only will the little girls get to take these home,
but they can wear them at the party to add to the ambiance of the event.
They will remember the party each time they wear their "party favors"!
A few great craft links: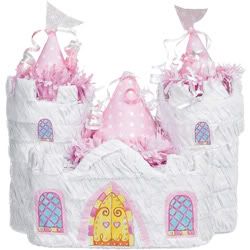 Some of my Pinterest Pins:
http://pinterest.com/pin/245868460878684921/
http://pinterest.com/pin/245868460876584206/